History
---
Oct 2001:
A public meeting attended by stakeholders from region of the Thar Desert, mandated the formation of JBF to address the Water crises.
Thar Desert, the world's most water distressed and densely populated arid zone
Extreme economic deprivation
Acute Drinking Water Scarcity
Diminishing traditional forms of natural resources management
Learn more about Project area
October 6-8, 2001 :
The meeting was followed by grass roots consultations in the region during which villagers responded enthusiastically in huge numbers to pledge their support
Public demand grew for the establishment of an organizational framework to formalize and make this water crusade sustainable
Jal Bhagirathi Foundation was formed as a public trust on 15th January 2002

Settled as a Public Trust, Registration Number:
06/2002/Jodhpur
FCRA Number: 125610038, dated 6th January 2003
Registered under section 12A of Income Tax Act 1961
Donations exempted under section 80G of Income Tax Act 1961
Board of Trustees
(Click on Picture to know profile)
Vision
---
Jal Bhagirathi Foundation is driven by a vision of water security, sustained by responsive governance and inclusive growth, leading to sustainable development.
Mission
---
Jal Bhagirathi Foundation exists to provide an enabling environment in which the desert communities of the Marwar region can access adequate drinking water for humans and animals within the constraints of environmental equilibrium by leveraging traditional knowledge and appropriate technology; facilitating village institutions of collective wisdom and building local capacities for community mobilization in an atmosphere of transparency, participation and accountability, through a process of networking and advocacy.
Core Values
---
Our organizational thinking and actions are rooted in respect for the communities with which we work and in respect for their collective wisdom in promoting sustainable levels of human interaction with the environment.

We are committed to bringing about change and inclusive growth, while proactively seeking the participation of all those affected by our programmes.

We shall uphold the highest standards of integrity in all our professional and organizational actions, and are committed to Total Quality Management, accompanied by continuous internal improvement

We are committed to extending unqualified support for achieving people's rights (including the right to water) in the belief that our work will be successful if it eventually contributes to improved public governance.

Implementation Framework
---
Jal Bhagirathi Foundation organizational structure is a unique amalgam of village-level volunteers and a resource base of professionals. The team of 20,000 village-level volunteers is assisted by members of a professional and technical workforce in effectively adopting and implementing a rights-based approach by mobilizing communities, and in planning, implementing, and monitoring development interventions.
Village level
It is the primary executing and decision-making body for implementation of all water and land development projects. It is responsible for the construction and maintenance of water structures.
Block level
The Jal Samiti is responsible for coordinating micro-projects, mitigating conflicts, helping village representatives develop strategies to counter problems, and promote best practices.
Organization level
The Jal Parishad is responsible for the reviewing and approval of work plans and grants for construction of village projects. It is constituted of Stakeholders, Volunteers, community leaders and Experts.
All the stakeholders
It provides a platform for members and volunteers to discuss the program activities and stakeholder concerns, and to ensure stakeholders' participation in the programs.
Key Achievements
---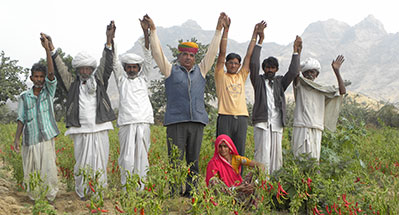 2,000+ water harvesting structures revived in approximately 500+ villages in the Thar Desert in Western India
Beneficiary community of approximately 550,000+ people & livestock enjoying year long water availability
A capacity to harvest more than 4,000+ million liters of rain water each year has been created in villages
Water availability has increased from an average of four months to 10-12 months in a year resulting in poverty reduction & improvement in quality of life
Inclusive Jal Sabhas (water user associations) with participation of marginalized sections & women facilitated & capacitated for community management of villages resources
Women & girl child saved from the daily drudgery of head loading water 
Unique system of financing water infrastructure set up. In each village a development fund called Jal Kosh is set up in which communities raise 30 % of the cost of the water harvesting systems. All contributions are raised in cash and formalized by opening a bank account
Community institutions have set up pricing mechanisms for managing water harvesting structures by devising systems of collecting a user charge. The procedures are used for long-term maintenance of the water structures. This has been a major highlights, especially as government in developing countries face resistance in pricing water
An external evaluation by UNDP reported that water distressed months have been reduced, women saved from drudgery of walking 3-4 kms everyday, and more importantly a 140% reduction in expenditure on purchase of water, having a major impact on poverty reduction
Formation and mobilization of volunteer base of 20,000 people to aid in maintenance & sustainability of projects
2,100+ homes equipped with toilets through creation of an innovative three-pronged strategy based on individual-, group- and community. JBF's sanitation program has led to village-wide sanitation and behavior change in approximately 34 villages, with beneficiary contributing 50% in the cost of the toilet
100+ hectares of Land reclaimed through successfully completed pasture development work in 25 villages reclaiming grasslands; models of plantation of local variety of trees and fodder are promoted to develop integrated models of land management.